Hydroxyl Functional Silicone Fluids
Hydroxyl Functional Silicone Fluid Types
About Hydroxyl Functional Silicone Fluids
Hydroxyl (Si-OH) functional silicone fluids can be reacted with other hydroxyl groups by the following condensation reaction that is catalyzed with acids or bases:

Since silica particles are terminated with hydroxyl groups, these fluids can be used to make silica more hydrophobic. Hydroxyl fluids are also used in room temperature cured silicone products where high temperature stability and water repellency are important. 
Hydroxyl End-Blocked Silicone Fluids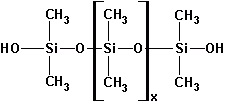 | Product | Viscosity (cPs) @ 25°C | Wt. % OH |
| --- | --- | --- |
| GP-426 | 100 cP | 1% |
Hydroxyl End-Blocked Silicone Emulsions
Genesee Polymers also manufactures two emulsions of very high viscosity hydroxyl end-blocked silicone fluids. These are recommended for evaluation as rubber and plastic lubricants and release agents. These products are listed with the approximate fluid viscosity. Unlike some competitive products, these products contain essentially no volatile silicone cyclics.
| Product | Fluid Viscosity (cPs) @ 25°C |
| --- | --- |
| GP-527 | 100000 cP |